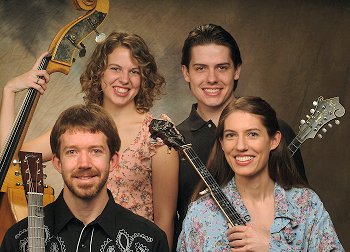 HOUSE CONCERT
Casey and Chris and the Two-Stringers
Friday, February 11th 2005, 8:00 pm
Hosted by Archie and Pris Warnock
Crownsville, MD
Phone 410-766-3115 or email to pwarnock_at_awcubed_dot_com
Casey and Chris and the Two-Stringers, a newly-formed young traditional band out of Nashville, Tenn., will be our guests on Friday, February 11. They play hard-driving original material, fast and furious instrumentals, and display a contagious excitement that audiences love. Although young, the Two-Stringers are establishing a heavy national touring schedule on the bluegrass festival circuit, as well as for town festivals and concert venues.

Sister Casey Henry and brother Chris Henry have already played professionally for thirteen years in their family band, Red and Murphy and their Excellent Children. The Two-Stringers represent the first time they have stepped out on their own to display their close sibling harmonies and accomplished picking. Casey has studied Earl Scruggs' playing extensively and her playing reflects his influence, as well as that of J.D. Crowe and Ralph Stanley, along with some twists and turns of her own. Chris is the best Monroe-style interpreter of his generation. His playing embodies the fire and grit with which Monroe played, with heavy doses of Frank Wakefield, Red Henry, and David McLaughlin. Chris also composes instrumentals and songs with enviable ease, and the Two-Stringers feature several of his originals.

Vivacious bassist Amanda Kowalski, alumna of the Wheeling Park, WVa., bluegrass program, holds down the bottom end for the Two-Stringers. Her playing is steady and driving and crowds love her enthusiastic energy on stage. She met Casey while attending the Augusta Heritage Workshops in Elkins, WVa. They played together in the all-female old-time band Uncle Earl and have always enjoyed traveling and making music together.

Californian Tyler Grant plays guitar and sings with the group. He is a versatile musician who can play anything from classical to reggae. The only member of the band with a college degree in music, Tyler keeps everybody's theory straight while keeping their rhythm steady.

The Two-Stringers are a band with high hopes for the future. They love playing together and look forward to traveling and playing music across the country. You can join us on February 11 for a preview and be among the first to hear this exciting new band. We are located in Crownsville, MD, a few miles northwest of Annapolis. Directions will be provided when you make your reservation.

Return to the House Concert main page.
Light refreshments will be provided.
No Smoking - No Pets (ours prefer only human visitors)
Please RSVP by Tuesday, February 8, 2005, as seating is limited
Guarantee your seat by sending a check in advance
Phone 410-766-3115 or email pwarnock_at_awcubed_dot_com
---
About the band
Casey Henry
Casey, born in Gainesville, Fla., relocated to Winchester, Va., with her family when she was eight. She started playing bass at the age of twelve, and joined her parents' band at fourteen. A year later she took up the banjo and never looked back. Throughout high school and college Casey played with several local Virginia bands and taught banjo in Charlottesville. Upon graduating from the University of Virginia in May 2000 with a BA in English and Women's Studies, Casey put out her first banjo CD, "Real Women Drive Trucks," which was greeted with much critical praise.
Since relocating to Nashville, Tenn., in early 2001 Casey has played with Uncle Earl, the Jim Hurst Band, June Carter Cash, and Tennessee Heartstrings, who released one CD in 2004, "New Strings, New Hearts." Casey's writing has been published in several music magazines and she also gives banjo lessons in Nashville.
Chris Henry
Chris started playing mandolin when he was nine and added the guitar a couple of years later. At age twelve he joined Casey in their parents' band, playing up and down the east coast. They recorded two projects as a family and he also played on Casey's "Real Women Drive Trucks" CD. In high school Chris took up drums and put together a rock band called the Bends. They played loud, fast, and wrote all their own material.
Chris moved to Nashville in late 2003 where he quickly found a job with Dave Peterson and 1946. After playing one season with them Chris left to work on his own musical projects, including a CD, produced by Butch Baldassari, of original and Monroe tunes, which should be released in the summer of 2005. Chris has recorded one instructional video for the Murphy Method, "Bill Monroe Style Mandolin." He also gives lessons on mandolin and guitar in Nashville.
Amanda Kowalski
Twenty-one-year-old bassist Amanda Kowalski is a charismatic performer and talented musician. Although Kowalski now makes her home in Nashville, Tenn., she is a native of Wheeling, West Virginia, where she began studying bass performance at age nine. With a musical background ranging from bluegrass and contemporary folk to classical music she has performed with a number of versatile acts.  Most recently Amanda has worked with such talents as Adrienne Young, Keith Little and Patty Mitchell, the Roland White Band, Uncle Earl, and Abigail Washburn.
Tyler Grant
Tyler Grant graduated from California Institute of the Arts in 2000 with a degree in instrumental music performance.  There he studied with such luminaries as Miroslav Tadic, Stuart Fox, Larry Koonse, Wadada Leo Smith, and Charlie Haden.  He participated in master classes with Christopher Parkening and Dusan Bogdanovic.  A tasteful and versatile guitarist, Tyler's musical expertise covers such styles as bluegrass, old-time country, rock, folk, jazz, r&b, and reggae.  A native of San Diego, Calif., Tyler now lives in Nashville, Tenn., where he has spent the last year on tour with international acts Adrienne Young and Little Sadie, April Verch, and Abigail Washburn.