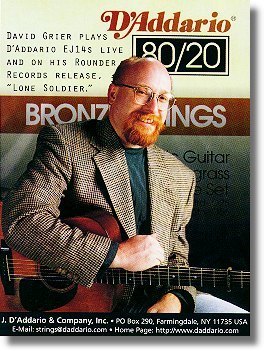 HOUSE CONCERT
David Grier
Saturday, April 2nd 2005, 7:30 pm
Hosted by Archie and Pris Warnock
Crownsville, MD
Phone 410-766-3115 or email to pwarnock_at_awcubed_dot_com
The most award-winning guitarist in recent memory is David Grier. For the past several years, he has been voted by the members if the International Bluegrass Music Association As Best Guitar Player of the Year. He has also appeared on two Grammy- winning recordings: "True Life Blues-A Tribute to Bill Monroe" and "The Great Dobro Sessions." David is also included in the book, "1,000 Great Guitarists." His inspiration to learn guitar came from exposure to Bill Monroe while his father, Lamar Grier, played banjo for the Blue Grass Boys in the middle 1960s. David's first solo recording "Freewheeling" appeared on Rounder Records, as did his acclaimed 1991 duet project "Climbing the Walls" with mandolinist Mike Compton. David's "Lone Soldier" project is listed in Acoustic Guitar Magazine's "100 Essential Acoustic Guitar Recordings of All Time. " His most recent Rounder release is "Panorama." His work is also captured on a Homespun video called "Building Powerful Solos." In addition to touring solo, David also appears as the guitarist for Psychograss.

Please join us on April 2 (no foolin'!) for an evening with one of the best bluegrass guitar players in the world. We are located in Crownsville, MD, a few miles northwest of Annapolis. Directions will be provided when you make your reservation.

Return to the House Concert main page.
Light refreshments will be provided.
No Smoking - No Pets (ours prefer only human visitors)
Please RSVP by Tuesday, March 29, 2005, as seating is limited
Guarantee your seat by sending a check in advance
Phone 410-766-3115 or email pwarnock_at_awcubed_dot_com