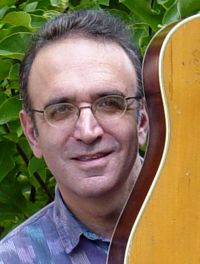 HOUSE CONCERT
Orrin Star
Saturday, January 21st 2006
Hosted by Archie and Pris Warnock
Crownsville, MD
Phone 410-766-3115 or email to pwarnock_at_awcubed_dot_com
Concert begins at 7:30pm EST     $15 per person
Orrin Star is a nationally recognized folk & bluegrass performer and teacher based in the Washington, DC area. Winner of the 1976 National Flatpicking Championship (the largest bluegrass guitar contest in the country), he plays guitar, banjo, mandolin, sings, and performs solo, duo and with his band Orrin Star & the Sultans of String.

His repertoire spans old-time, western swing, celtic and original songwriting in addition to more mainstream bluegrass and folk material. An accomplished storyteller and entertainer (he worked as a stand-up comic for five years in the Boston area) he has appeared on A Prairie Home Companion and has three recordings on Flying Fish Records. He is the author of a popular guitar instruction book ("Hot Licks for Bluegrass Guitar", Oak Publications) and a columnist for Flatpicking Guitar magazine.

Please join us on January 21 for an evening with one of the best bluegrass guitar players in the world. We are located in Crownsville, MD, a few miles northwest of Annapolis. Directions will be provided when you make your reservation.

Return to the House Concert main page.
Light refreshments will be provided.
No Smoking - No Pets (ours prefer only human visitors)
Please RSVP by Thursday, January 19, 2006, as seating is limited
You can guarantee your seat by sending a check in advance
Phone 410-766-3115 or email pwarnock_at_awcubed_dot_com
QUOTES     

CRITIC'S TIP

THE BOSTON GLOBE

October 10, 1985
"Orrin Star is one of the finest flatpicking guitarists in captivity. He's kept growing since he won the National Championship in Winfield, Kansas in '76, and his wry humor has been honed to razor-sharp."
-----Jeff McGlaughlin




MUSIC

THE BOSTON HERALD

October 3, 1987
"Some of the sweetest rural southern music being made in America today is coming from the fretboards of urban northern musicians. The sound that David Bromberg and Orrin Star created last night at Nightstage may be a thousand miles and a couple of generations removed from the original articles but that hardly makes their music less authenic, or less rambunctious fun." Both Bromberg and Star are consummate showmen."
-----Daniel Gewertz




JAMESTOWN COMMUNITY COLLEGE NEWS


"Anyone who can appreciate the work of such artists as Arlo Guthrie and Chet Atkins will find Orrin Star a pleasant surprise."
—Jamestown Comm College News

LEFT BANK CAFE
"One of the funniest storytellers on the circuit. Orrin is guaranteed fun."

GARRISON KEILOR
"Is Orrin Star your real name?"


Return to the House Concert main page.