Dreading the boring pregame nonsense from the TV talking heads before the Super Bowl game mercifully kicks off on Sunday evening? You have another option! Join us for something different - an afternoon pre-game party and house concert from the world-renowned champion fiddler and dancer April Verch. We are thrilled to be able to present this rare opportunity to meet and hear April and her superb and dynamic band on Super Bowl Sunday.
Award-winning Rounder Records recording artist, April Verch, is a Canadian fiddle and stepdancing champion and singer. Though her musical roots lie deep in the fiddling of her native Ottawa Valley, her repertoire also features traditional and contemporary tunes ranging in source and inspiration from Quebecois to the Appalachians, from Bluegrass to Brazilian. Renowned, too, for her mastery of the high energy Ottawa Valley stepdancing style, the April Verch Band's blend of driving fiddle playing, dynamic step dancing and sweet soprano vocals never fails to bring down the house!
When you see twenty-seven year old April Verch perform, the first thing that strikes you is the pure energy that infuses her fiddle playing and stepdancing. When you listen to Take Me Back, her third disc for Rounder Records, though, what draws you in are more subtle things-her confident, winsome singing, the finely detailed elegance of her fiddle phrasing and the depth of a repertoire that ranges through material from Americana mainstays Buddy and Julie Miller, to simple country songs and rollicking tunes from her native Ottawa Valley to sparkling original instrumentals. Like its predecessors, Take Me Back is rooted in a deep musical tradition, yet it also serves notice that April Verch has taken a bold step forward and stands on the threshold of a new and exciting stage of her career.
Born, raised and now living in Pembroke, Ontario, where her family has lived for generations (more about the Ottawa Valley), April grew up in an area with a rich, distinctive musical and stepdancing tradition shaped by the diverse roots of the immigrants drawn to the region's lumber camps. Emulating her older sister, she began taking stepdancing lessons when she was three, but right from the start, she was drawn to the fiddle, too-though her parents made her wait for three years before giving her a fiddle for her sixth birthday. Her talents in both arenas quickly became evident, as she began winning fiddle and dance contests on her own, and performing with her sister and the Pilatzke brothers as a member of the Dueling Dancers, a troupe that earned regional and national attention for its blend of innovative and traditional Ottawa Valley stepdancing.
"By the time I was ten," April recalls, "that was it - I knew I wanted to play fiddle and dance for a living. I just wasn't sure how I could do it." By the time she finished high school, she had recorded her first two self-released albums (Springtime in 1992, Fiddle Talk in 1995) and was appearing across Canada at concerts, as an invited guest at fiddle contests and as a teacher at fiddle camps, always integrating dance and fiddling into a seamless, dynamic whole. Offered a job with a leading fiddle ensemble after graduation, she opted instead to attend Boston's Berklee School of Music, where she was exposed to-and quickly mastered-an array of musical styles. At the same time, she capped her fiddle contest career with a pair of impressive wins, earning the titles of Canadian Grand Masters Fiddle Champion and Canadian Open Fiddle Champion.
Indeed, her success-and her determination to pursue music for a living-were such that April left Berklee after a year. "I only had enough money to get a two year diploma," she says with a laugh, "and I knew that if I did that, I'd be starting out with nothing but loans. So I decided to take that money and use it to start my career." Moving to Saskatoon, Saskatchewan, the home of her road manager, percussionist and husband-to-be Marc Bru, she mixed a growing amount of touring on her own with stints as a member of other groups, including the band of Canadian country music star Tommy Hunter.
By the time Rounder Records' Ken Irwin spotted her at the annual Folk Alliance conference in 2000, April-still in her early 20s-had matured into a self-assured, vibrant performer. Signed to the label on the spot, she released Verchuosity, her first Rounder CD, almost immediately. Earning rave reviews and a JUNO ("Canadian Grammy") award nomination, the album also served to introduce her to new audiences in the US, where she has appeared at venues ranging from Washington, DC's Kennedy Center to bluegrass and folk festivals across the country.
With the release of From Where I Stand in 2003, April added a new dimension to her music, making her singing debut on songs like the Carter Family favorite, "I'll Be All Smiles Tonight" and Greg Trooper's "Light In The Window." Produced by old-time music favorite Bruce Molsky, the CD confirmed the growth of her musical palette with a mixture of original and traditional tunes in French Canadian, Appalachian and Latin-flavored styles-along with a healthy measure of Ottawa Valley material.
With roots music master Dirk Powell as producer, and recorded with local musicians at his Louisiana studio, Take Me Back builds on the strengths of From Where I Stand with a new emphasis on songs and arrangements with broad, yet roots-leaning appeal. Dipping again into the inexhaustible well of the Ottawa Valley repertoire, April resurrects undeservedly obscure tunes from regional fiddle heroes like Reg Hill, as well as the charming 60s era country song, "This Ottawa Valley Of Mine," and weaves rare French Canadian tunes culled from the record collection of the legendary Graham Townsend (bequeathed to her by Townsend's family) together with originals that reflect the depth to which she has internalized tradition. Other originals testify to her grasp of even more musical idioms, from the Appalachian drive of "Tom, Brad and Alice" to the jazz-inflected lope of "Monarch," written with frequent collaborator Taylor Buckley. With backing from Powell, Marc Bru, pianist Benoit Legault (who appeared on From Where I Stand), members of the Red Stick Ramblers and other colleagues of the producer, April offers convincing proof that her supple, inventive fiddling is more powerful than ever.
Still, it's the remainder of the album that is, in many ways, the most important, for here April Verch shows that in the two years that have elapsed since her vocal debut, she has pursued singing with the same passion and determination that have informed her dancing and fiddle playing from the very start. Turning to songwriters Miller, Julie Miller and Claire Lynch, and making occasional, tasteful use of electric guitar and drums, April brings a new dimension to her work, delivering songs of intense, often dark emotion with an expressive vocal depth that belies not only the short time that's passed since she began singing, but also her age. Indeed, whether you're a long-time fan of or a newcomer to April Verch's music, these are performances that will come as a revelation.
"My dad always says, 'don't forget where you came from,'" April Verch is fond of telling audiences at her concerts, and as the music on her new CD shows, it's clear that her roots still lie at the center of her music. Yet it's no less clear that April Verch is a creative artist who isn't afraid to follow her instincts - to take chances - and on Take Me Back, it is equally clear that they've led her to create music that can reach the hearts of a new community of listeners.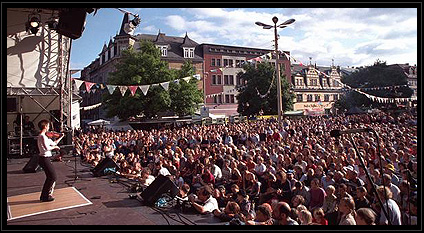 ---