We are pleased and excited to invite you to celebrate the holiday season with Stephen and Jana Mougin, two extraordinarily talented and renowned bluegrass musicians from Nashville, Tennessee. They will be in our area on their way north and we've invited them to join us and perform for you at our holiday house party on Sunday, December 16 at 2 pm.
Stephen Mougin (www.myspace.com/stephenmougin) moved to Nashville in 2002 to play with Valerie Smith and Liberty Pike and has since worked with artists including Jim Lauderdale, Melonie Cannon, Randy Kohrs and Audie Blaylock. A superb instrumentalist, he has played stages around the world including the Grand Old Opry and took part in one of our house parties back in 2005, as mandolin player with Melonie Cannon. He is currently the guitar player and vocalist for the world-famous Sam Bush Band, appearing with Sam just recently at the Ram's Head Live! in Baltimore and nationally on the David Letterman Show. Stephen is an incredible player, singer and entertainer.
Jana Mougin-Dolakova (www.myspace.com/janamougin) is the lead singer and bass player for the award-winning Czech and Slovak band, Fragment, one of Europe's most respected bands. A native of the Slovak Republic, Jana has gained a worldwide reputation as one of the best singers in any style of music. She is the Slovak Bluegrass Music Association Vocalist of the Year (1999, 2000) and Bluegrass Association Of Czech Republic Vocalist of the Year (1997, 1998, 2000).
Stephen and Jana will be performing songs from their upcoming recording of duets, as well as songs from Jana's recordings with Fragment and plenty of bluegrass standards. It's going to be an exceptional afternoon of music and good cheer and we invite you to join us.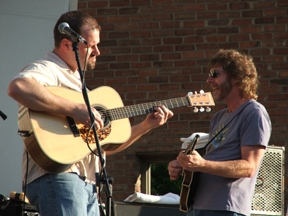 ---